Part of the package that we bought from El Compass Travel and Tours was a one day island hopping that included lunch.  El Compass took care of joining us with the other groups so we didn't have to worry about it.  There were 11 of us in the group, and we got along well, and we all had a nice time.
We left the port at around 9:30am, one hour behind schedule, because we had to wait for the group to be complete.  We were so happy because we had a very nice weather.  We were worried because just the night before, the rain poured non-stop, but when morning came, we were greeted with very clear skies and sunshine.
The islands were just across the Coron town, and in fact, they can be easily seen from the port.  As we approached the islands, my first impression was, they look so intimidating, and well — scary?  I guess I'm just reading too much suspense novels, because to me, it was like we wouldn't be able to get out anymore as soon as we enter those clusters of rock formations, LOL!
But, the place redeemed itself in just a matter of minutes, because as soon as we passed through those rock formations, this was the breathtaking sight that greeted us!  Everyone in the boat went "Wow, awesome!"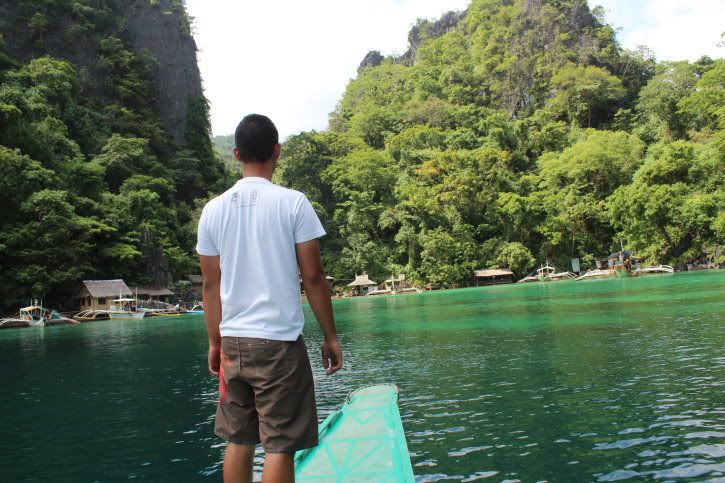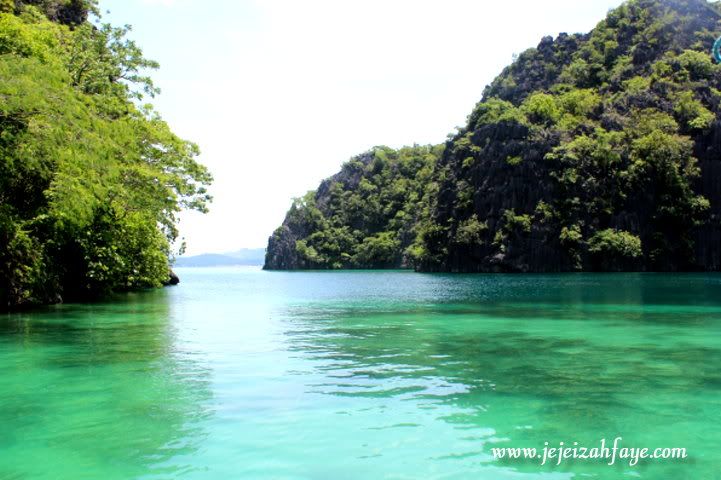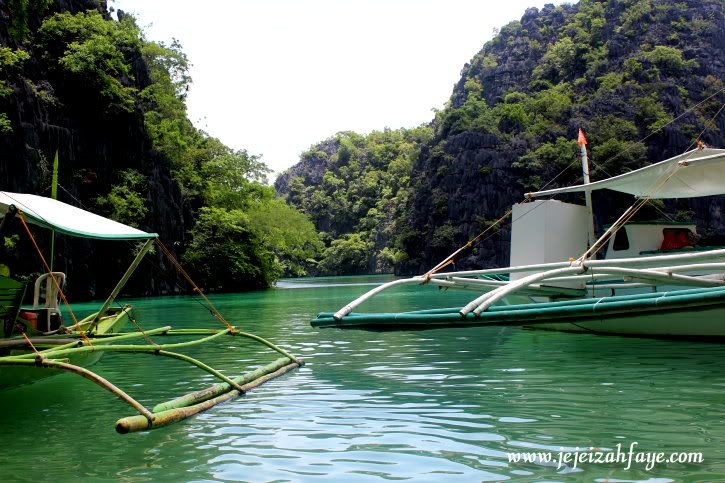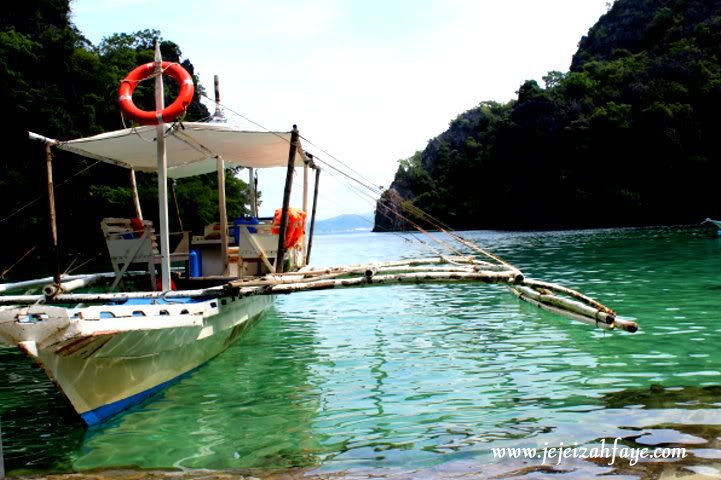 We had to climb 150 steps up and 150 steps down (not sure about that figure, though), before we reached the Kayangan lake on the other side.   At first I thought 150 steps were nothing compared to the 720 steps that we climbed in Mt. Tapyas, but I was wrong.  For me, it was like we climbed Mt. Tapyas three times and back.  It was a steep climb, with uneven steps, and some rocks were slippery, so we had to go slow — though there was no way we could move fast because the distance of some steps were double than the previous ones. It was really a challenge.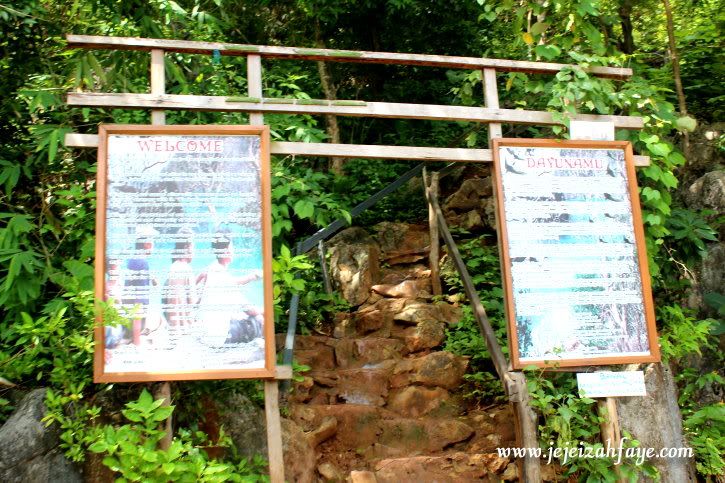 But then again, when we reached the viewing deck (as the locals call it), we forgot all about our cramped legs and shortened breaths. It was simply awesome!  This is what we normally see when we Google Coron photos.  It was just breathtakingly awesome!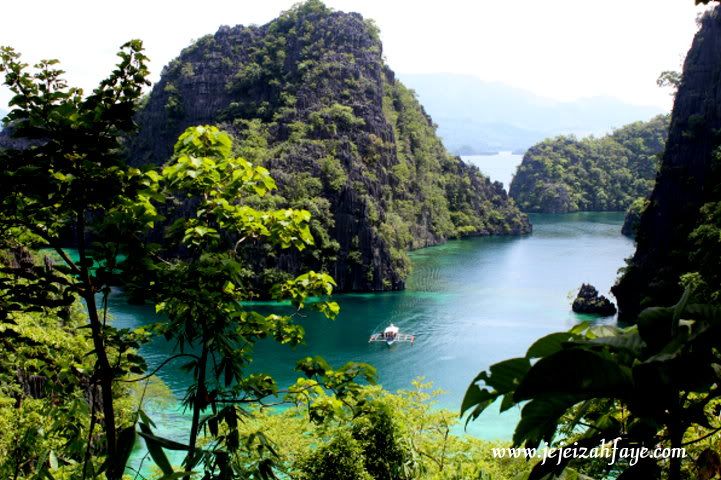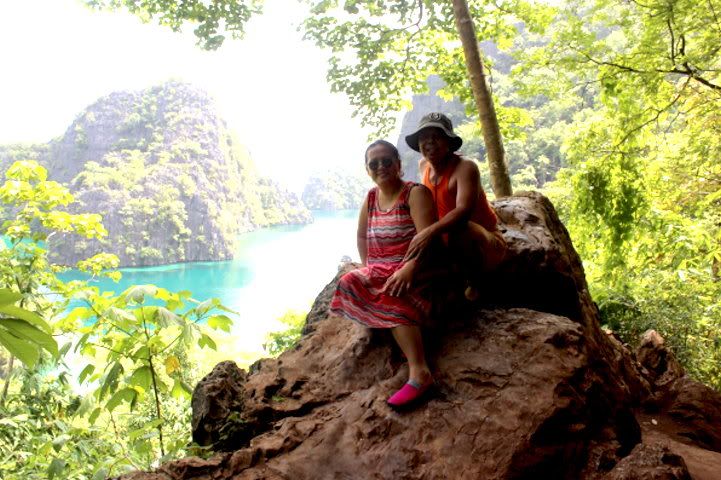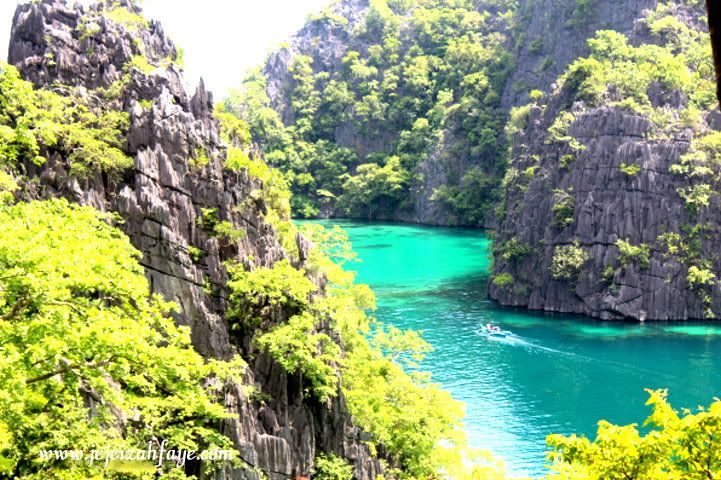 After the photo ops, we went down to reach the other side.  The lake was enclosed by the limestone rock formations, and the water was cold.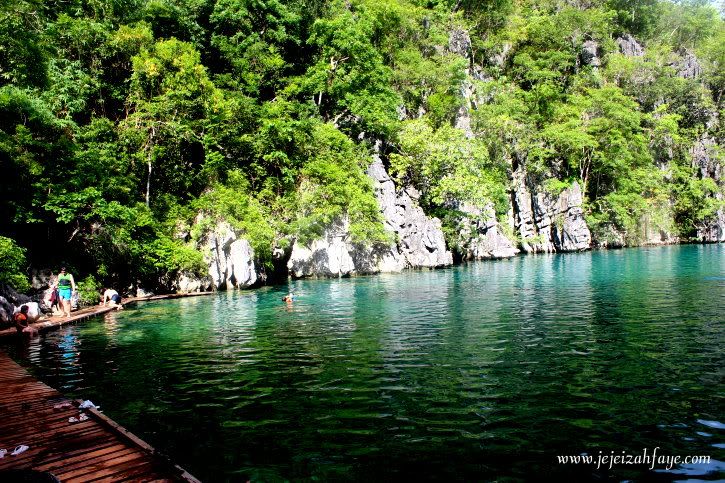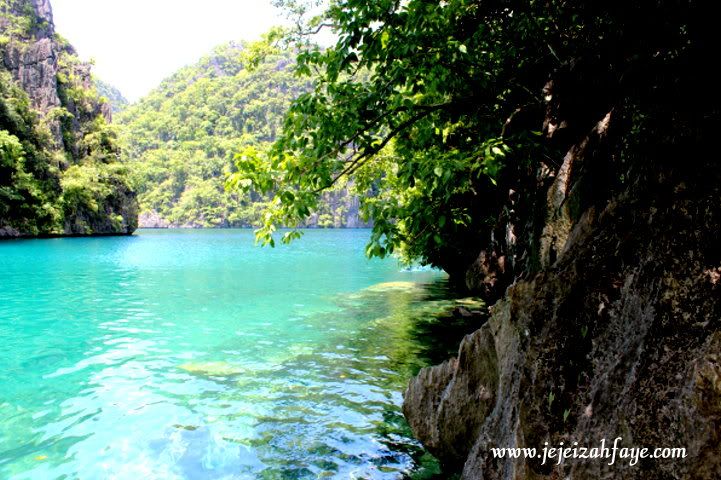 The fish were not colorful, in fact, the only fish I saw was the swordfish. The water was so clear but there were slippery and sharp rocks everywhere.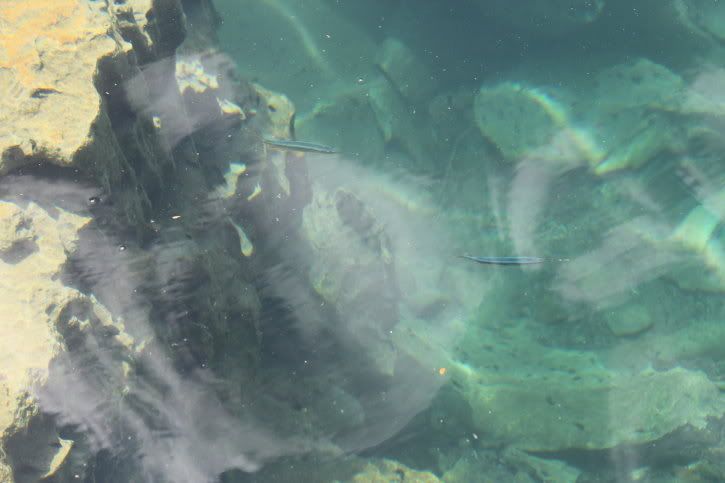 It took me about 15 minutes before I had the courage to go down. I was very hesitant even with the life vest because the water was really deep.  I was scared to look down especially when I saw that it was so dark below. But after a while, I got the hang of it, so I enjoyed myself.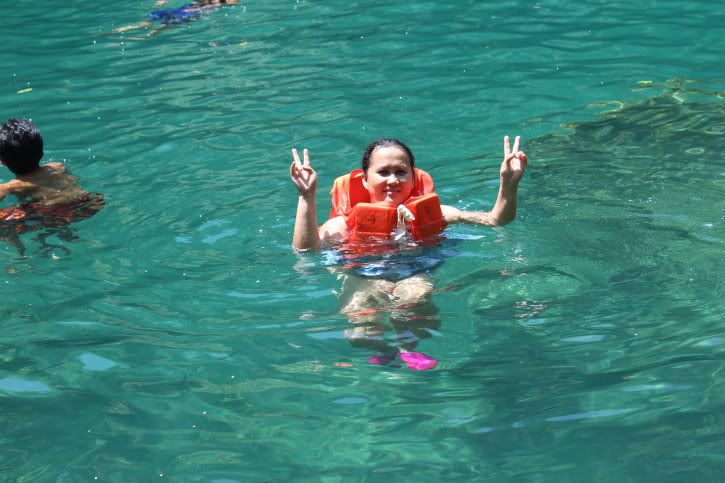 After Kayangan Lake, we went to Coral Garden.  My boat mates enjoyed snorkeling.  Hubby said there were lots of corals and colorful fishes, but I was still hesitant to join him.  I was happy going down the boat and just looking at the fish and corals from above the water.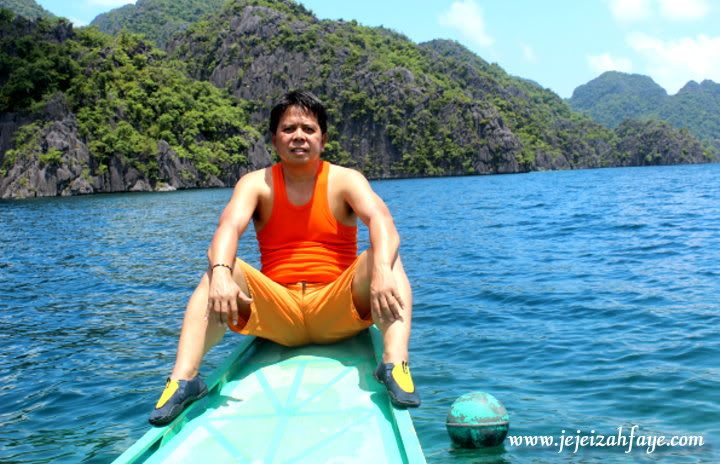 Next stop was the CYC beach.  It was a very nice beach, with white sand — almost like the Boracay sand, but it looked quite neglected.  We were told that years ago it was even more beautiful, but the private owners of the other beaches transferred the sand from CYC to their own beaches.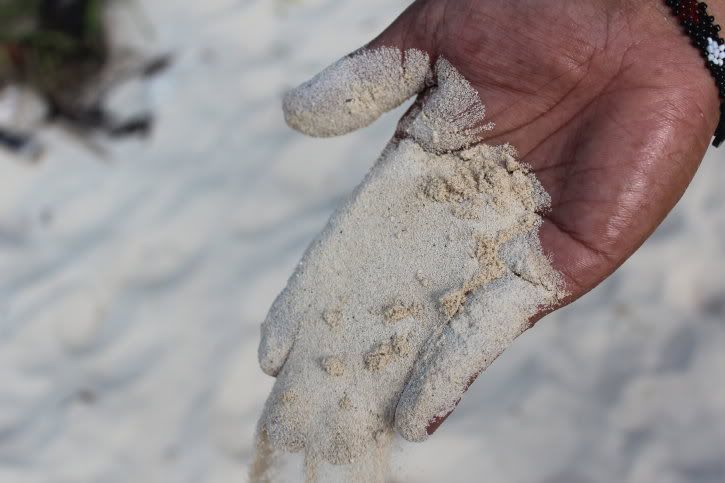 The water was very shallow and there were mangroves, and I was worried that there would be jellyfish, because the boatman told us that jellyfish are likely to be found near mangroves — not sure if it's true, though, but what's important was we didn't see any jellyfish.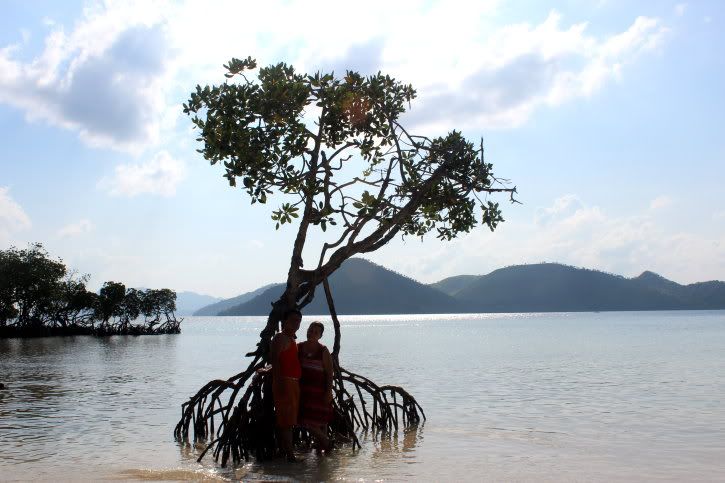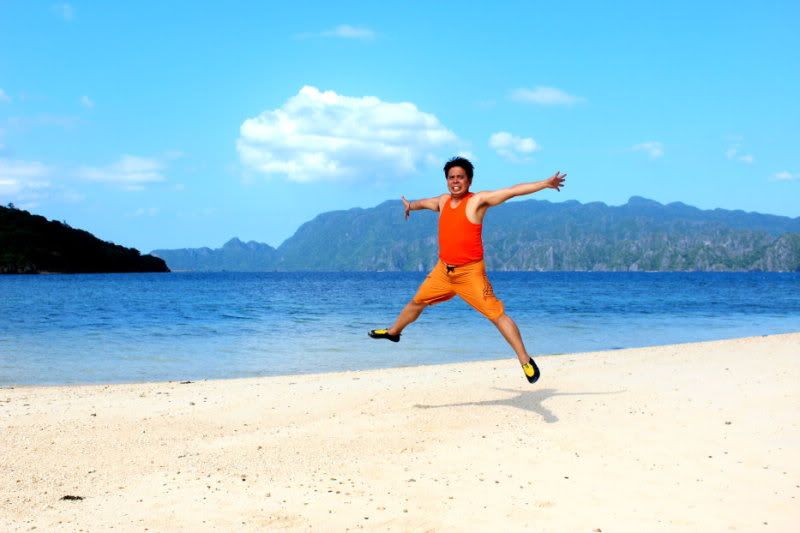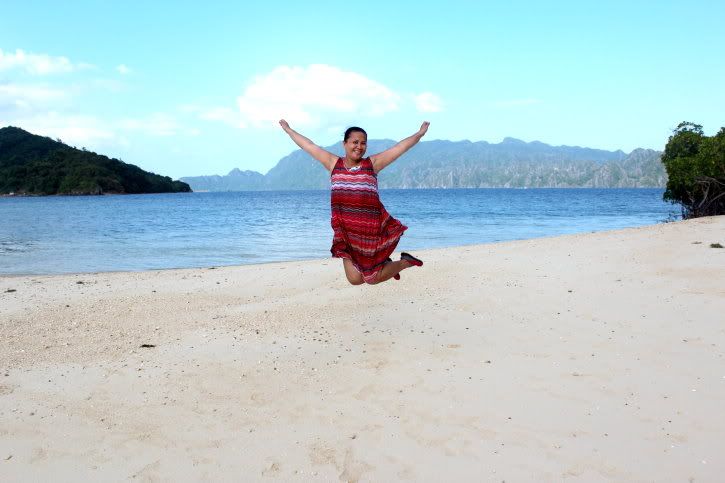 We didn't stay long because it was getting late and the waves were getting stronger.   We were supposed to go to the other side, but the boatman decided against it because he said the boat might have difficulty navigating  through the strong waves.
We were on our way back to the port at around 4:00pm, sunburned and tired, but happy.