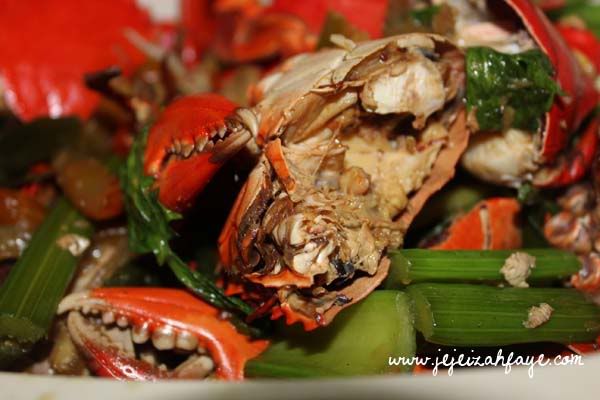 When hubby got back from Davao for a week-long stay, he craved for crabs, so we bought some from the wet market near our place.  Since he cooks better than me, I told him that he should be the one to cook our lunch for that day.   Everybody in the family agreed that his recipe was the best!  In fact, even better than the one served in Davao when we tried the crabs buffet  at Glamour Restaurant.  Even my parents enjoyed it, unfortunately, my mother had an arthritis attack  a few hours after eating it, though, I'm not sure if it was actually related to the crabs, but that's what she insisted, but still she said that at least she enjoyed eating it.
The recipe is actually simple and I'm sure I can also do it myself but we (kids and I) still prefer that Daddy cooks it for us, LOL.
Want to try it at home? Here it is:
1 kilo crabs, oyster sauce, celery, bell pepper, coconut milk, onion, garlic, curry powder
Steam the crabs. Saute onion, garlic and bell pepper and then add the steamed crabs.  Add the 2 packs of oyster sauce.  Add 1/2 cup of water.  Add the celery and 1 teaspoon curry powder.  Simmer for 3 minutes and then add 3 tablespoons of coconut oil.  Simmer for 2 minutes. Serve.