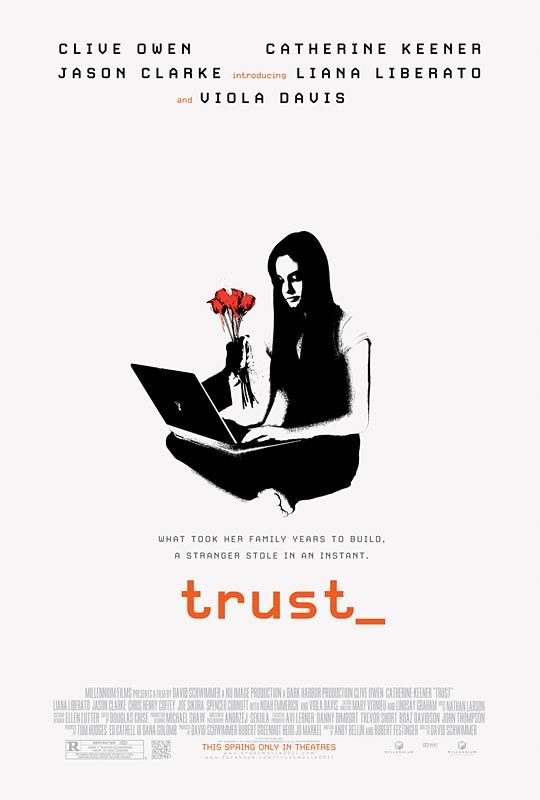 How do you protect your children from danger?
Nowadays, the danger lurks not only in places where your kids spend most of their time, like within the  neighborhood or their school.  Danger also lurks in a place where you as parents, more than anybody else, should be very much aware of, that is, the Internet World.   The Internet, with its extensive help to the modern society and its people, is, unfortunately,  also home to online predators and that's where the danger lies for our children.
This is the story line of the movie TRUST, starring Liana Liberato (Annie), Clive Owen (Will, as Annie's Dad),  Catherine Keener (Lynn, as Annie's Mom), Chris Henry Coffee (Charlie as the Online Predator).   Annie, a 14-year old girl,  develops online friendship with Charlie, whom she thought of as a boy of 16, but as their friendship deepens, he told her that he's 20, and later on, 25.   Her friendly chats and phone calls with him developed into more intimate relationship.  When they finally met, Charlie turned out to be a middle-aged man. Despite Annie's apprehensions when she saw him,  Charlie was still able to persuade her to join him for ice cream and later on to a motel room where she was raped.   It's obvious to the viewers that Charlie has been doing this for a long time, but for Annie, he was as innocent as a young boy she thought him to be.   His sweet words swept Annie off her feet, and she didn't see the bad intentions that he had on her.
Later on,  when she didn't get any reply from Charlie anymore, her calls and messages were not returned, her bestfriend,  Brittany, noticed the changes in her.  Annie confided to Brittany what happened to her.  Brittany reported to the school authorities that Annie met with her middle-aged boyfriend in the Mall and that she was raped.   Annie was brought to the hospital for examination and her parents were informed.  Her parents were clueless, and they were not aware of the extent of their daughter's relationship with Charlie, although her Dad asked the basic questions about Charlie, Annie was only able to give him the information which was just provided to her by Charlie.
The scary part was when Annie refused to acknowledge that she was raped by the man.  She refused to cooperate with the police and investigators.  She still believed, despite what happened, that Charlie loves her, that he thinks she's pretty, that he's sweet, and that he's the only one who understands her.  She confided all these things to the psychiatrist who was assigned to her case.   She became hostile towards her family, especially her Dad.  Meanwhile, her father, Will, got obsessed with finding the man who did it to her daughter.  He did his own investigations and showed his daughter photos of suspected men.  He tracked down a man he was confident to be his daughter's assailant, and whom he later saw in her daughter's school, watching the volleyball tournament.  He attacked the man, who turned out to be the father of Annie's schoolmate.  The man didn't file charges against Will (since obviously he didn't want to be investigated as Will is correct in suspecting him to be one of those online predators).
Annie finally came to her senses when the investigator confirmed that the DNA sample of Charlie matched with all the other samples found in the crime scene of the other kids whom he assaulted.  At first, Annie still didn't believe and even said that the DNA results could be wrong, but the FBI agent immediately assailed her doubts by saying that for the DNA results to be wrong is a next to impossible probability.  He showed Annie several photos of young kids who were assaulted by Charlie, to ask her if she somehow recognizes them, like, if they went to the same camp, or in a club, or whatever.  But Annie didn't recognize any of them.  Annie was devastated and went straight to her psychiatrist's clinic, where she broke down, and finally admitted to herself that she was indeed raped by the man she trusted.  She realized that she was no different from all the other girls who were victimized by Charlie; they were almost of the same age, with one as young as nine.
Annie later tried to commit suicide when the final blow of seeing her nude photos in the Internet hit her.  That was the last straw in the emotional torment that she was suffering from.  Fortunately, she was discovered in time by her father and was able to bring her to the hospital.  The final scene between her and her father was so touching, with her Dad apologizing to her for not being there for her, for letting her lose her self-confidence and her self-esteem to the extent that she thinks she's not beautiful, and that she thought of ending her life.
The ending of the movie leaves the viewers with a heavy heart because the man was not captured and was even shown to be a respectable Physics professor and looks like a happily married with a son.  It just means that he's still out and ready for his next victim.
The movie is an eye-opener, especially for parents with adolescent and teenager kids.  It reveals the reality of online predators whose mission in life is to victimize innocent and trusting kids.
But I think, inasmuch as I would like to completely blame these people,  the burden also lies in how the parents raise their children.  I believe that kids who are raised to be self-confident, with high self-esteem, who can assert for themselves, who value their self-image, and most importantly, with high spiritual values, are not very likely to become victims of this kind of crime, because they would know how to handle themselves well and they would easily see the lies behind the sweet words of these kind of people.
So, I believe that we, as parents, have the great responsibility of making sure that our children have strong emotional and spiritual foundation.  It is physically impossible for us to be with them 24/7,  but if we have instilled in them the right values,  we can be assured that they will be able to confidently assert themselves against these online predators.  And again, most importantly, let us always remember to pray for them in all the things that they do, in all the activities that they engage in, in all the friends that they involve with, and in all the relationships that they find themselves into.