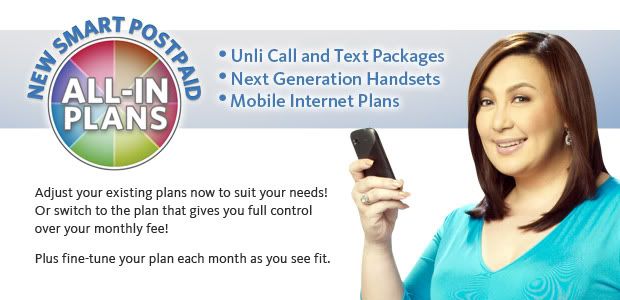 I'm so glad that Smart Communications has introduced their All-In Plans for Post Paid subscribers.  It's really a money-saver especially now that my husband is always on a month-long business trip to Davao.  The Php500 a month that we pay for the Unlimited Smart-to-Smart Talk is deducted from our monthly plans.  For myself, I also availed of the 2,500 Text to all networks for Php350 a month.
Now, my husband and I can talk  on the phone for hours on end without worrying about the expensive cellphone bills.  I decided to also avail of the Text to All Networks because my kids have Globe SIM, and since obviously, I won't be able to consume the 2,500 texts monthly allocation for my plan, I just asked them to use my cellphone in texting  their classmates and friends.
Another good thing about this is I can change my subscription on a monthly basis depending on my needs.  Should I decide that I wouldn't need the 2,500 texts to all networks, I can opt not to subscribe to it the following month, and actually that's what I'm thinking right now.  I'll probably avail the 30-day consumable 20 hours surfing for only Php200 a month.  I'll see which one works best for me.