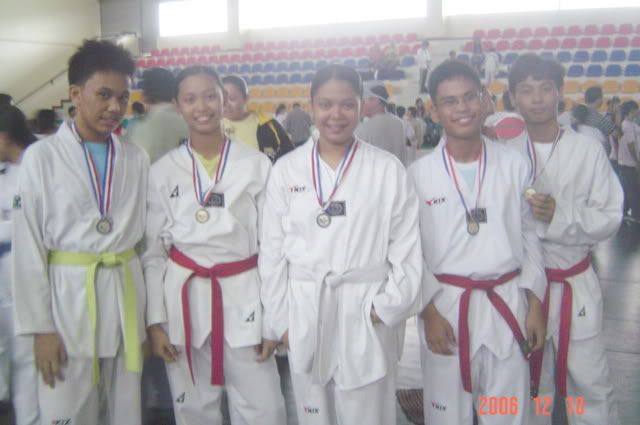 My son had always wanted to experience joining a competition in Taekwondo. He has been taking his lessons for, i think, total of 2 years now. In fact, his current belt which is yellow should have been higher if he was only able to attend the promotional tests in the past.

An opportunity for him to join the competition came, but unfortunately, it coincided with the birthday of his sister on December 10. But, i still encouraged him to attend. He also said that probably it wouldn't take very long. As a side story — when his little sister heard about this – his joining the competition despite his Ate's birthday, her comment was, "Kuya, how could you attend that competition when you know that it's Ate's birthday". I just explained to her that it wouldn't really affect her Ate's birthday celebration because it was just going to be a half day affair.

He needed a complete gear —- head gear, body armor, groin, shin guard, arm guard — all the works — plus, mouthpiece — when we canvassed from a sports store, the total cost would be around Php3,000.00! Oh no! Way, way beyond the budget. So, his Tito (Ninong) came to the rescue. He lent us the gear, all we had to buy were the groin guard and the mouthpiece. OK, problem solved! Thanks to the ever-helpful Ninong.

Then the big day came, his Dad and I were really all set to come with him, but then a problem at home came up, and i had no choice but to be left at home and just asked his Dad to videotape the entire competition.
Dad and i just communicated through text. When he texted that Earvin won the first round, we were so happy and excited. His next message was, "I'm so nervous!". Then his next message was, Earvin lost in the 2nd round, because he turned his back twice from his opponent after a kick — apparently, this was a no-no in Taekwondo.

But then, he got a Silver Medal (yehey!!!). It could have been a Gold were it not for the points that were deducted from him. But we're all very happy because considering that this was the first time that he joined a competition, we weren't even expecting a medal (oh well! i think there was some sort of pressure on him because the competition was held in his own school!).
But there's another story. That is, when i watched the video. I wasn't ready for all the kicking that he got from his opponent. His left knee was injured and it was swollen for 3 days — that's why he wasn't able to use his left leg anymore during the competition — too
bad because this is his stronger leg.

But all's well that ends well. What's important is he had his first experience of being in a Taekwondo competition.